Sweeney Todd: The Demon Barber of Fleet Street
March 24 - 26, 2023 at the Griffin Auditorium ~ Sweeney Todd: The Demon Barber of Fleet Street is a musical and thriller set in Victorian England about a murderous barber who extracts revenge on unsuspecting people in London for the cruel abuse of his wife. It is based on the 1973 book by English author Christopher Bond. The musical won eight Tony awards, including one for Wheeler. The play was made into a major film starring Johnny Depp in 2007. The musical was praised for its laconic lyrics, operatic singing, and a rousing musical score by Stephen Sondheim (who also wrote for Into the Woods and West Side Story). Its themes include corrupt legal and moral institutions, the chaotic influence of love, and the corrosiveness of revenge.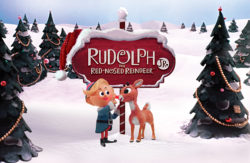 Rudoldph the Red-Nosed Reindeer Jr
December 2 - 4, 2022 at the Enrichment Center Stage ~ Rudolph saves Christmas and goes down in history in the Broadway Junior version of this family classic! The holiday classic soars off the screen in this Broadway Junior, 60-minute musical adaptation of the beloved television special. Filled with holiday hits like "Rudolph the Red-Nosed Reindeer" and "A Holly Jolly Christmas," Rudolph the Red-Nosed Reindeer™ JR. features all of your favorite characters including Santa and Mrs. Claus, Hermey the Elf, Bumble the Abominable Snow Monster, Clarice, Yukon Cornelius and, of course, Rudolph. It's an adventure that teaches us that what makes you different can be what makes you special. Because of his shiny nose, Rudolph doesn't feel like he belongs in Christmastown and sets off to find a place that accepts him. Along his journey, he encounters fellow misfits, only to realize that home is where he has belonged the whole time. When a storm threatens to keep Santa's sleigh from taking flight, it's up to Rudolph to save Christmas!
Shrek the Musical
September 16 - 18, 2022 at the Griffin Auditorium ~ Shrek the Musical is a one-of-a-kind, hilarious fairy tale in which curses are reversed, monsters get the girls, donkeys and dragons find love, and princesses are beautiful in all shapes and sizes. Grumpy, gruff, green ogre Shrek lives alone in his swamp. The world is fearful and mocking of him, and he is more than happy to leave the world to itself, in turn. Suddenly, his hermit existence is thrown open, when a group of homeless fairy tale characters — Pinocchio, the Gingerbread Man, the Three Little Pigs, and more — burst upon his swamp, seeking refuge from the persecution of the cruel, vertically-challenged Lord Farquaad. Shrek seeks out Farquaad, who offers him a deal: if Shrek rescues the Princess Fiona (whom Farquaad wishes to marry for her crown), then Farquaad will ensure the return of Shrek's swamp by returning the fairy tale creatures to their homes. In a desperate attempt to regain his swamp's hermetic piece, Shrek enters the world for the first time in his life. He travels to Princess Fiona's prison, rescues her from a fire-breathing dragon, and then – scariest of all – is forced to get to know the princess as he tries to bring her back to evil Farquaad To the determinedly unsocial ogre's dismay, Fiona is very different from what he expected a princess to be. She may even provoke Shrek's most novel experience yet: Love. With dazzling sets, whimsical puppetry, high energy dance numbers, and laughs by the minute, Shrek the Musical transforms the contemporary children's book and popular animated feature film into a stage musical that is sure to entertain and make audiences believers in happy endings for all.
Frozen Jr
February 4 - 6, 2022 at the Griffin Auditorium ~ When Queen Elsa accidentally sets off an eternal winter in the town of Arendelle, her younger sister Anna (along with her friends Kristoff, Olaf, and Sven) goes off on a thrilling adventure to find her sister and save the kingdom. Facing an unsuspected villain, unpredictable ice powers, and something new waiting round every corner, Anna must fight alongside her friends to bring back summer. Frozen reveals how true love can come in many forms, and that the bond between sisters is something truly special.